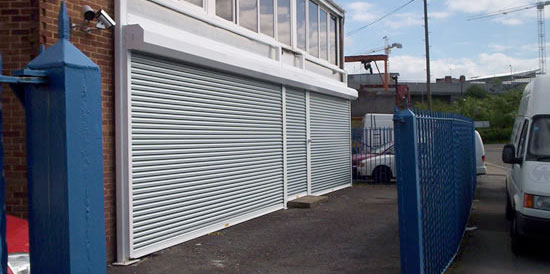 All our roller shutters are made to our customers bespoke requirements, and are suitable for a vast range uses.
Roller shutters are a secure, versatile and a cost effective way of securing your property.
Wide range of curtain styles to suit individual requirements
Internal or External applications
Choice of Colour and Finishes
Economical to Repair and Maintain
Robust Design
We offer many various curtain types; again we will help to provide the most suitable product to our customer depending on your requirements and budget.
Where energy conservation and protection against the elements, extreme noise and a high level of security are a primary consideration, Insulated curtains will provide added heat retention and noise reduction, offering a thermal value of 0.69W/m2K
All shutters are manufactured to a high standard, using top quality components to offer reliability and durability for years to come.
Bottom Rail
the base of the curtain is fitted with an inverted galvanised or aluminium 'T' 'L' section. Heavy Duty Double Angled options available
Side Guides
Formed from pre-galvanised mild steel or aluminium channel sections, Depth depending upon size and application, ranging from 50mm to 104mm. Secured to the opening structure by continuous galvanised steel or aluminium angles. Wind anchor options available.
Barrel Assembly
Steel tubes are used, of varying diameters and wall thickness, which is determined to keep the deflection of the barrel within Door & Shutter Manufacturers Association guidelines. Where required, individually calculated counterbalance springs are inserted into the barrel to ensure the minimal amount of effort is needed from the drive mechanism, whether the door is simple push up/pull down, geared hand chain or electrically operated.
Headplates
The roller assembly is supported by mild steel laser cut or aluminium headplates depending upon size and application.
Hood
Optional extra – Formed from galvanised pressed sheet metal to enclose the shutter barrel and curtain assembly. (Can be coloured to match curtain if applicable).
There are many options available to drive your shutter, again depending on your individual requirements we will assist  you in choosing the right application.
Push Up Shutters
Typically used on smaller openings such as doorways, windows, serveries or bars.
operated and locked from both sides of the opening. (Due to Health & Safety a maximum curtain weight of 20kg can be used without a safety brake, safety brakes cannot be fitted to push up shutters).
Hand Chain Operation
Used on smaller to medium sized openings that are either too large for push up, or where there is no electrical supply available.
Electric Tube Motor
240 volt, single-phase tube motors, typically used on shop-fronts,  offices, or  low use applications.
Safety brakes (anti fall-back device) are fitted where necessary to comply with European regulations.
Direct Drive Motors
Typically used on industrial applications.
Integral safety brake (anti fall-back device) to comply with European regulations.
Eliminates the need for counterbalance springs.
Ideal for high usage applications such as car parks or loading bays.
Low voltage controls.
Emergency hand chain, operable from floor level, provided as standard.
Electric (conventional motor)
Typically used on industrial applications.
Provided with a safety brake (anti fall-back device) to comply with European regulations.
Drive chain or gear chain drive.
Emergency hand chain, operable from floor level, provided as standard.
All electrical installations are available with a wide range of control options,
Push Button, Keyswitch, Remote Control, Radar, Photo-Cell, Induction Floor Loops, Fully Automatic complete with Traffic Lights and relevant Safety Features to comply with Health and Safety