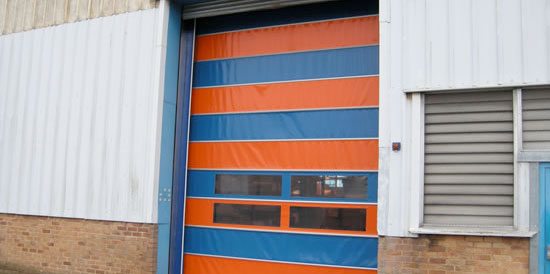 Speed doors  are designed for external use in high traffic situations. Two versions are available, either roll up or fold up. Our speed doors are designed with the end user in mind, they are both cost effective and easy to operate, and maintain.
Speed doors and the  associated operating mechanism come as a complete units, with the electrical drive gear contained within the self supporting frame structure, which can be affixed either externally or internally to the building.
Speed Doors are flexible, being made from self extinguishing, Class 2 polyester fabric, hot sealed by welding and resistant to low temperatures. Transparent PVC windows, treated against ultraviolet rays, and of various sizes can be fitted and a choice of modern colours is available. Any panel contact points are reinforced to minimise wear and tear, and panels can be reinforced with horizontal steel tubes or incorporate a fabric self tensioning mechanism.
Every Speed Door incorporates a row of send and receive photo cells and a conductive safety edge rubber hidden inside the bottom rail, which will stop the door and returns it to the open position in the event of any obstruction during the closing phase.
Doors can be activated by various types of remote control mechanisms, such as photo-electric cells, microwave radar, mats and induction loops plus manual push button. An adjustable timer facilitates control of speed of operation and a manual safety device allows opening in the event of power supply failure.