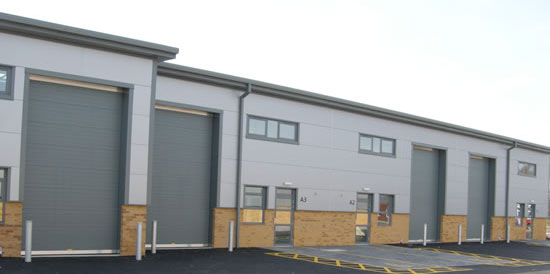 Energy Saving, Superior resistance to all weather conditions, a high level of security and excellent insulation, Made from either galvanised steel or aluminium panels, they are able to withstand all the elements and take into account the ever increasing importance of insulation in building regulations.
Manufactured using 610 mm deep x 40 mm thick composite panels manufactured using 0.5 thick hot dipped zinc coated (to BS EN 10147) steel internal and external facing sheets. These sheets are bonded together using a CFC free foam.
Standard finish – stucco embossed coating to both faces. Extruded aluminium cappings are fitted to the top and bottom panel, these are fitted with rubber seals and combine with the vertical PVC seals to provide an effective perimeter weather seal.
Sectional doors are counterbalanced to ensure smooth running with minimal effort. All counterbalance spring calculations carried out are done to get the maximum life out of the door springs used. The springs are mounted on a steel shaft supported by bearing brackets incorporating sealed bearing rollers, this ensures free running of the shaft.
The door track systems are designed to suit the headroom available above the opening and where necessary, the pitch of the roof.
All sectional doors are available with the following options:
Low headroom.
Standard lift – also available pitched to follow the contour of the roof.
High lift – also available pitched to follow the line of the roof.
Vertical lift – Plastisol coated outside face, available in limited colour choices.
Polyester coated outside face